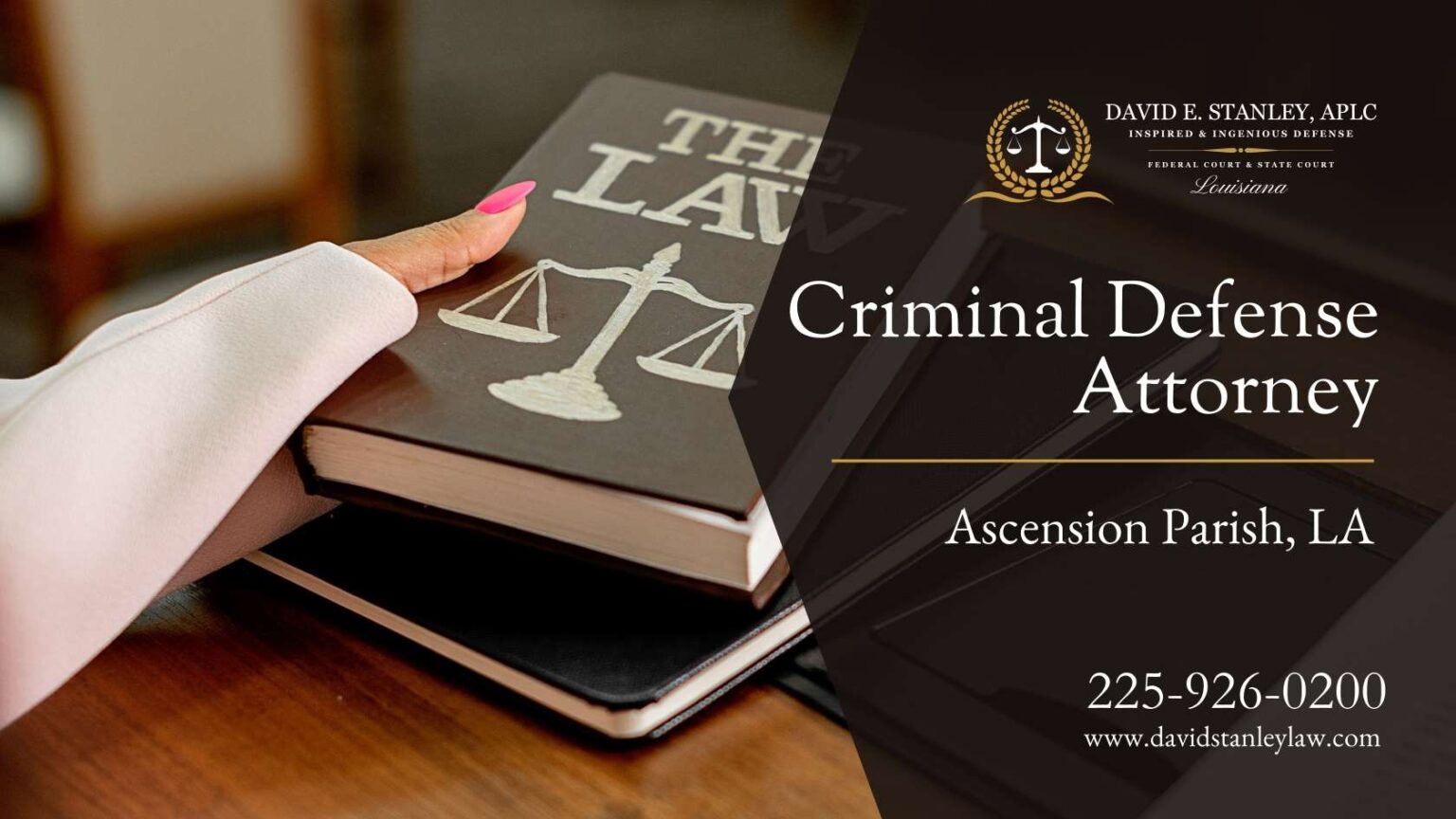 Criminal defenses are essential to ensure that the accused only suffers the punishment they deserve. If the defense fails, a judge can limit the punishment in the sentencing portion of the trial. Even if a defendant is pronounced guilty of a serious crime, it is possible to lessen the penalty. Judges may hold criminals accountable, finding that they are technically guilty, even though they have imposed probation or suspended sentences. By doing this, they adhere to the law, meaning justice is applied equally to the accused. Anyone can be charged at any time. What they do next can make a big difference in resolving the case. A seasoned criminal defense lawyer will be able to inform you of your rights and assist you in navigating through the legal system. They will also defend your rights and represent your best interests. Private criminal defense lawyers take the time to visit clients, learn about their cases and commit to them. Public defenders often have more cases, limiting the time available to work on specific cases. Criminal Defense Attorney Ascension Parish LA
Engaging with a competent, knowledgeable criminal defense lawyer is crucial when you are charged with an offense. Their experience and experience will significantly enhance your case. This could be the difference between acquittal or an extremely harsh sentence. A criminal defense attorney, David Stanley, will advocate for you to protect your rights, prevent unjust convictions, and ensure the best outcome. In addition, if you're convicted of a crime, an attorney will help you fight for a fair sentence. David E. Stanley, APLC, has represented thousands throughout the entire spectrum of criminal offenses and has secured dismissals or reduced sentences for numerous criminal cases.
Law Services We Offer In Ascension, LA
David E. Stanley, APLC offers the following legal services: Criminal Defense Attorney Ascension Parish LA
A strategic argument in criminal defense challenges the credibility or validity of the evidence presented by the prosecution. The prosecution is usually called the people, state, or the United States for federal offenses. The prosecution is the one who attempts to prove the criminal accusations. Therefore, the prosecution must demonstrate that you have committed the offense beyond a reasonable doubt.
Criminals have many options to seek relief from the justice system. This includes appealing against a conviction or reducing the sentence. A person convicted of a crime may appeal their case and ask for an appeal by a higher court to fix any legal errors. It's not the same as asking for a new trial since the defendant wasn't satisfied with the outcome. Instead, an appeal will determine whether the verdict as a whole or the sentence handed down was erroneously handed down. The appealed-to who is appealing against the verdict must prove to a higher judge that the trial wasn't fair. The court cannot consider new evidence. Instead, they are taken into consideration. While one has the right to appeal their case, some specific conditions and deadlines must be met for the appeal could be a waiver. Legal professionals can provide you with options and ensure you've met the deadlines to file. Speak with a qualified criminal defense attorney today to learn more about your options.
Any injury a person or entity inflicts on another person or entity can be considered personal injury law. This is the case as long as the injury was not caused by reckless, intentional, or reckless conduct or any act covered by strict liability. The fields of law relating to personal injuries are extensive, and many choices exist. This makes it difficult for individuals to select the best attorney for their case. Personal injury lawyers may not be the right choice to represent anyone in a divorce or murder case. If you are thinking of filing a personal injury lawsuit, consider whether the chance of winning is worth the risk. Every injury is not an individual injury case. Not all personal injury lawsuits result in damages. It may take several years to negotiate the settlement. You could lose your wages and pay legal fees and court costs during this period. Suppose you or someone you love has suffered injuries or death due to another person's malpractice, negligence, reckless actions, or recklessness. In that case, you could be eligible for damages under personal injury laws. Contact an attorney for personal injuries to review your case to determine whether you have a valid one.
Why You Should Choose David E. Stanley, APLC
Someone accused of a crime and facing criminal charges doesn't want to be a stranger in court. Many people lose their cases due to needing to know their rights or follow the correct procedures. There's a lengthy list of rules to follow in case you must go to court. This is why you should get legal advice from a criminal lawyer when the stakes are more significant than just a simple fine. Most people don't hire an attorney for criminal defense to reduce its cost and expenses. However, employing an attorney for criminal defense is an intelligent decision. Hiring a lawyer is always tiny compared to the massive costs that may result from losing your case. Therefore, a criminal defense lawyer is required to ensure the highest quality defense. A criminal defense attorney is informed of the differences between each case to identify the primary factors and arguments that could be used to dismiss any charge related to the alleged crime. Here are some reasons why you must hire a great lawyer.
Understanding of the Judicial System
One of the significant motives to engage a criminal defense lawyer is that he has enough information about how the judicial system in your country operates. Even for those within the legal system all day, it's complex and confusing to grasp. A knowledgeable defense lawyer is the best option, as he profoundly understands the court system's intricate processes. He will assist you in the court process based on your particular case.
Follow the Proper Court Procedure
When you have an excellent criminal defense lawyer, he will not oppose your case before even stepping foot into court. It's more complicated to prepare for court. An experienced criminal lawyer will assist you in preparing the necessary documents. Numerous legal hurdles may hinder access to the court. The prosecutor can use this to his advantage. Most courts handling criminal cases have rigid deadlines, bottlenecks, and legal procedures that may make the defendant oblivious to his responsibilities. Therefore, you should have strong support from a skilled and experienced criminal defense attorney. If the prosecutor understands they are up against an experienced and skilled lawyer, you are more likely to secure the plea bargain.
Relationships with Prosecutors
An experienced defense lawyer has established relationships with prosecutors after working in the legal profession for many years. While this may sound odd, lawyers maintain good relationships with their colleagues. Both parties know they will be more likely to have a pleasant experience if they meet one another. A skilled defense attorney will have a great rapport with the prosecutor. This can help in the resolution of your case. This relationship can help them negotiate a low-cost bond or a better plea bargain.
Your defense attorney is your main point of contact and can handle all the discussions and negotiations with law enforcement and prosecution. Your lawyer will be able to calm heated discussions with the prosecutor. You can trust that your lawyer will handle your case professionally if they have a positive relationship and are experienced in legal matters. If your lawyer has worked hard in your local area, he may know the local judge. He might also know what tactics work best for that particular judge.
A Better Examination of the Evidence
The prosecution team has experts who examine evidence in the criminal case you're involved in. It would help if you had a legal professional representing you. A skilled and knowledgeable criminal lawyer can discover evidence collected illegally to influence the outcome of your case. In addition, your defense lawyer can handle the witnesses who exaggerate the truth to prove the accusation and is competent to identify any flaws in their testimony immediately. You'll have to engage an attorney for the criminal defense to examine the evidence and witnesses provided by the prosecution.
Moreover, when you hire a professional defense attorney who is part of a law firm, you will receive support from a defense team. The lawyer you hire for defense can aid you by leveraging his numerous connections with private investigators, medical professionals, and expert witnesses. These relationships can be used to strengthen your defense.
While hiring an attorney for criminal defense might seem expensive, you'll save money when you have an expert who can guide you through the process. Your case can be dealt with smoothly and effectively with an expert attorney. In addition, when you have a lawyer, the time it takes for your case to be processed through the legal system can be decreased. This will help you return to normal quickly and minimize the loss of income you could suffer from the delays.
A professional and experienced lawyer has been practicing law for years, so he knows how to tackle the changes in your case. He can help defend your case by devising legal strategies. He can apply the law in your favor. You can be confident that your lawyer's defense team has an in-depth understanding of the legal system and is fully aware of the changes made to the law. He will safeguard your rights from the police and enforcement. He will review your case carefully to uncover any evidence obtained wrongly. He can demonstrate false accusations by using robust evidence. A criminal defense lawyer can help you stay clear of criminal charges. He can quickly identify flaws that could be present in your case and knows the best ways to conceal the weaknesses.
If you happen to be investigated for a criminal charge, your future and life are at risk. If you are in the process of being found guilty, your life could be drastically altered. It is possible to pay penalties and fees and spend many years in jail. If you don't defend yourself, you could face grave consequences. This includes the inability to find work and restrictions on where your life may lead you.
Professional defense attorneys can assist you in keeping your criminal record clean and minimize any adverse effects that could affect your future. The circumstances surrounding your case will determine if your lawyer can lower or decrease the penalties or dismiss the case. The attorney can also help you remove a conviction or get it removed from your record. He will help you find the best ways to minimize a criminal conviction's impact on your life.
Get the Attention You Deserve
When facing a criminal case, you may feel like everyone opposes you. You may not feel comfortable discussing your situation with those close to you. With a trustworthy lawyer, you can freely discuss your anxieties, insecurities, and everything concerning your case. The lawyer representing you will be there to help you. He will help and guide you through the procedure. If you get into the court system, you can avoid being in prison and have to pay higher penalties. The process may seem overwhelming, from missing hearings to filing paperwork properly. A criminal defense lawyer understands what happens from when an individual is detained until the point at which they are sentenced. A criminal defense lawyer can be expected to provide personalized attention from the beginning of your case.
Assistance in Evaluating the Various Options for Settlement
A knowledgeable criminal defense lawyer can assist you in evaluating every option available, from the different types of charges and plea deal options. He will also help you pick the right option for you. Other options available include the possibility of dismissal or reduced penalties or charges. Another critical decision you have to make is whether to accept a deal made by the prosecution or if you prefer to stand trial:
Your attorney will explain all the possible consequences and what kind of sentence you could face if you're guilty at trial.

The attorney will go over the outcome of any plea bargains.

They may offer a plea bargain for a lesser settlement.
Do not attempt to plea bargain on your own without the help of a lawyer for criminal defense. Criminal Defense Attorney Ascension Parish LA
Frequently Asked Questions:
What Does a Criminal Lawyer Do?
An attorney who focuses on defending people, groups, and entities accused of crimes is a criminal attorney, sometimes a criminal defense lawyer. Many criminal defense attorneys represent clients in addition to handling criminal matters.
Is a Criminal Lawyer and a Criminal Defense Lawyer the Same?
Generally, criminal lawyers practice law and support clients when representing others in commercial or other general legal problems. In addition, a criminal defense lawyer specializes in the trial techniques and defense strategies required for the client's and their family's case to be successfully resolved.
Why Do You Need a Criminal Defense Lawyer?
One would need a criminal defense attorney because they know the distinctions between all criminal cases. He may quickly ascertain the criteria and justifications that can be utilized to dismiss any charges about the claimed offense. A criminal defense attorney is thus required to have the best care possible.
The Ascension Parish's harmonious blend of cultures enhances the experience and enthralls the senses in various ways. The distinctive flavors and accents are directly connected to Louisiana's sweet spot, between Baton Rouge & New Orleans. This is the essence of Southern Louisiana's specialty. In addition, you can take in Louisiana's history and culture during your visit. The vivid hues of The Gardens of Houmas House to the vibrant shades of the Alvin Batiste painting are only some of the numerous things you'll see. The Jambalaya Festival's explosion in flavor and the subsequent explosion in sales of retail items at Tanger Outlets, as well as local-owned stores, are a testimony to the festival's success. There's plenty to see and do in Louisiana's Sweet Spot, Ascension Parish. From the River Road African American Museum's tales to the historic district of Louisiana and sugarcane distilleries, to name a few. Criminal Defense Attorney Ascension Parish LA
David E. Stanley, APLC
1055 Laurel Street, Suite 2
Baton Rouge, LA 70802
225-926-0200