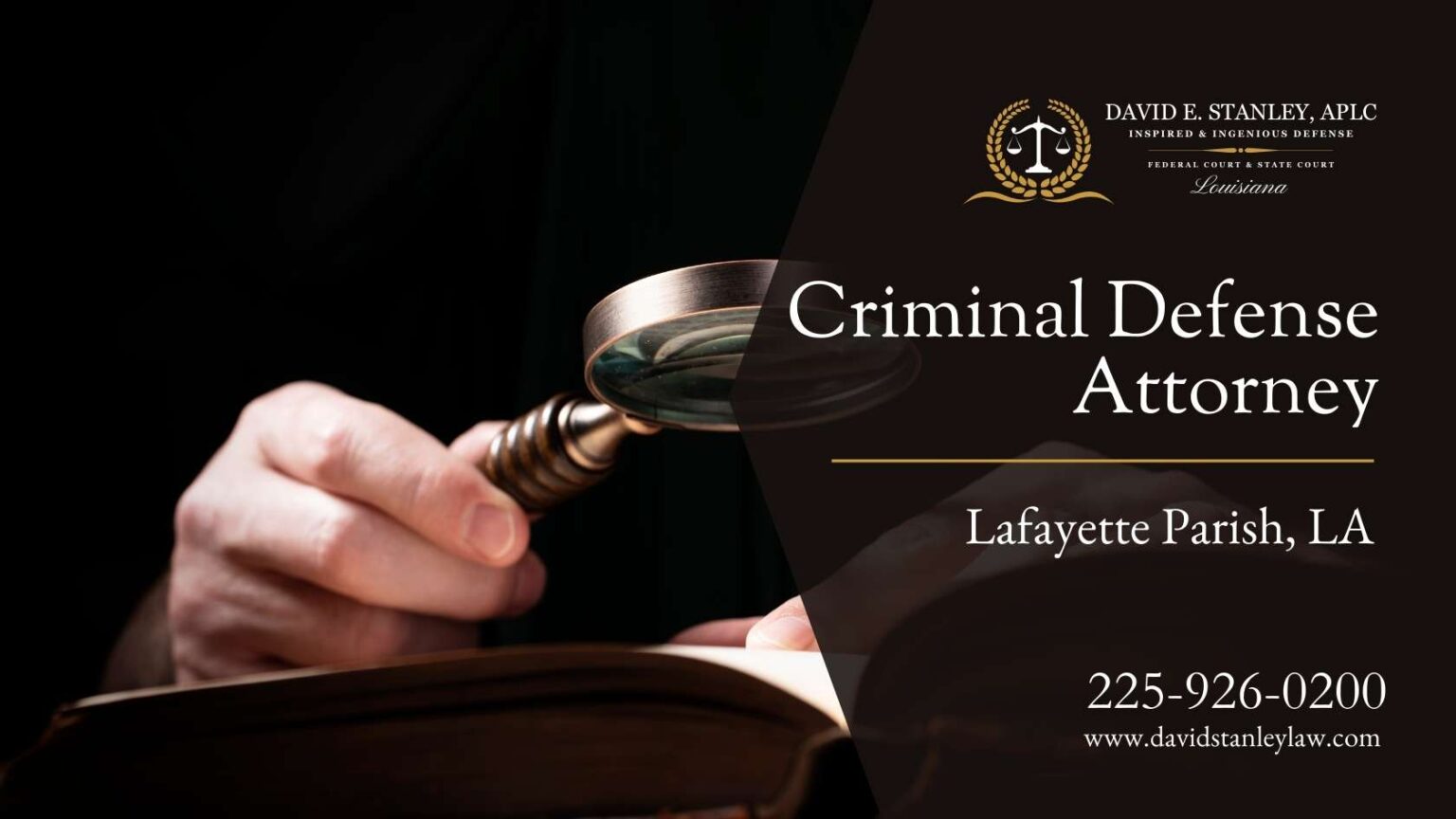 A reliable criminal defense lawyer will be able to advise you about your rights and help you in navigating through the legal system. They will protect your rights and represent your best interests. Private lawyers for criminal defense meet clients, discuss their cases and commit to them. A competent and knowledgeable criminal defense lawyer is essential when charged with an offense. Their experience will enhance your case. This could mean the difference between acquittal or the most severe sentence. Criminal Defense Attorney Lafayette Parish LA
A criminal defense lawyer, David Stanley, will fight for you to protect your rights, avoid unfair convictions, and help ensure an optimal outcome. In addition, we will help you fight for a fair sentence if you're sentenced to prison for a crime. David E. Stanley, APLC, a Criminal Defense Attorney Lafayette Parish LA has represented thousands of people across criminal offenses. He has secured the dismissal or reduction of sentences in many criminal cases.
Law Services We Offer In Iberville, LA
David E. Stanley, APLC offers the following legal services:
A strategic argument in criminal defense contests the credibility or validity of evidence offered by the prosecutor. The prosecution is often called the people, state, or the United States for federal offenses. The prosecution is accountable for providing evidence to support the criminal charges. Thus, the prosecution has to demonstrate that you have committed the crime beyond a reasonable doubt.
Criminals have many alternatives to appeal to the justice system. This can include appealing against a conviction or reducing the sentence. If a person is proven guilty of a crime could appeal their case and ask to appeal to a higher court to fix any legal errors. This is not the same as soliciting a new trial since the defendant wasn't satisfied with the outcome. An appeal can decide if the verdict is fair or not. The appealed-to who is appealing against the verdict must prove to a higher judge that the trial wasn't fair. The court is not able to consider any new evidence. They are instead considered. While one has the right to appeal their decision, specific requirements and deadlines must be met for an appeal to be considered the basis for a waiver. Legal professionals can provide you with options and ensure you've met the deadlines required to appeal. Talk to a reputable criminal defense lawyer today to learn more about your options.
Any injury an individual or organization inflicts upon another person or entity could be legally deemed personal injury law. This is the case as long as the harm was not caused by reckless or deliberate action or any other act covered by strict liability. There are numerous areas of law dealing with personal injuries. This makes it challenging for clients to pick the best lawyer for their case. For example, a personal injury lawyer might not be the best option for representing someone in a case of murder or divorce. First, consider whether you could succeed in a personal injury lawsuit. Any injury isn't an individual injury claim. Personal injury lawsuits will not always produce damages. The process of negotiating a settlement could take a long time. You may lose your salary and pay legal fees and court costs during this time if you or someone you love has suffered injury or death due to the negligence, negligence, or negligence of another. On the other hand, the law on personal injury could permit you to claim damages. Get an attorney who handles personal injuries to review your case and determine if you have a valid one.
Why David E. Stanley, APLC, Should be Your Criminal Lawyer
A person accused of an offense is not interested in being treated like an outsider in the courtroom. Many individuals lose their cases because they must learn their rights and follow the proper procedures. If you are required to appear before a judge, There are rules to be aware of. That's why you need legal advice from an attorney for criminal cases when you face more serious issues than a fine. Most people don't employ an attorney to defend their criminal case to lower the costs and expenses along with the process. But hiring an attorney for your criminal defense is a wise choice. Employing a lawyer is little compared to the enormous expenses that could result from losing your case. A criminal defense attorney must ensure you get the best defense possible. To determine the most important reasons and arguments that may be used to deflect accusations about the alleged crime. A criminal defense lawyer is aware of the distinct aspects of each case. Here are a few reasons to choose a top lawyer.
Understanding of the Judicial System
One of the significant reasons to employ a criminal defense lawyer is that he is armed with sufficient information regarding how the judicial system in your country works. Even for people in the legal system, it's complex and confusing to grasp. As a court professional, a well-informed defense lawyer is an ideal option. He will help you through the court process based on the specific case.
Follow the Proper Court Procedure
A criminal defense lawyer will not oppose you before you step into court. It's more complicated to prepare for court. A knowledgeable criminal lawyer can assist in the preparation of documents. Access to the court may be delayed due to some legal obstacles. The prosecutor can use this to his advantage. Most courts that handle criminal cases are governed by strict deadlines, bottlenecks, and legal procedures that may make the defendant forget his legal obligations. Therefore, you need strong support from a skilled and experienced criminal defense lawyer. You will likely win the plea bargain if the prosecutor knows they are against an experienced and skilled lawyer.
Relations with Prosecutors
An experienced lawyer for defense has established relationships with the prosecutor after being in the legal industry for a long time. Though it may appear odd, lawyers have good relationships with colleagues. Each of them knows they have a higher chance of having a good experience if they know each other.
An experienced defense lawyer has a strong relationship with the prosecutor. This can help in the resolution of your case. They could get a bond with a lower cost or a better deal. Your defense attorney is your main point of contact and can handle all discussions with law enforcement officials and prosecutors. Your lawyer will be able to calm heated discussions with the prosecutor. If they're friends and have expertise in legal issues, you can be sure that your lawyer will take care of the case professionally. If your lawyer has been working to a high standard in your local community, they may have a good relationship with the local judge. He might also know what tactics work best for that particular judge.
A Enhanced Examination of the Evidence
The experts from the prosecution team will look over evidence in any criminal investigation you're involved with. Legal professionals are an ideal resource. A skilled criminal lawyer will be able to discover evidence that was illegally collected and affect the outcome of your case. In addition, the lawyer representing you can take care of witnesses who lie to the truth to support the accusation and is competent to spot any weaknesses in their statements immediately. You'll have to engage an attorney for the criminal defense to analyze the evidence and witnesses the prosecution presents.
Furthermore, when you employ an experienced attorney for the defense that is part of a law company, you'll get support from a defense team. You can leverage your lawyer's connections with medical professionals, private investigators, and expert witnesses to help defend yourself. These connections can be utilized to help you defend yourself.
Even though it could be expensive to engage an attorney for criminal defense, you will save money if you find someone who can aid you. With an expert attorney, you can handle your case efficiently and smoothly. Also, when you have a lawyer, the time it takes for your case to be handled by the legal system could be cut down. This will allow you to return to normal speedily and limit the loss of income you may lose because of delay.
A skilled and knowledgeable lawyer has been in law for many years, which means you can trust him to deal with the changes in your case. Legal strategies can be used to argue your case. He will be able to apply the law to your advantage. Your defense lawyer's team will be well-versed in the law and be completely informed of any changes to the law. He will ensure your rights are protected against law enforcement and the police. He will scrutinize your case thoroughly to identify any evidence obtained wrongly. He can disprove false allegations using strong evidence. A criminal defense attorney can help you escape criminal court charges. He will quickly recognize any weaknesses in your case and knows how to hide the flaws.
You Must Ensure that You are Safe for the Future
If you're under investigation concerning a criminal case, your future, and life are in danger. Your life could be severely affected if you're found guilty. You could be charged penalties and fees and spend many years in prison. In addition, there could be severe consequences if you fail to defend yourself. This includes the inability to obtain employment and the limitations on where your future may lead you. A skilled defense attorney can assist you in keeping your criminal record clear and limit any adverse effects that may affect your future. The circumstances surrounding your case will determine if your lawyer can lower or decrease the penalties or even end the case. Attorneys can also assist in getting rid of a conviction or getting it removed from your record. He will help you find the best possible ways to limit the impact the consequences of a criminal conviction could have on your life.
You Deserve to be Noticed
If you're in a criminal case, you may feel as if everyone is against your case. You might be uncomfortable speaking about your situation with the people close to you. If you're with a trusted lawyer, you can talk about your worries, fears, and everything related to your matter. The lawyer who represents you will be there to help you. He will guide you through the process. If you can enter the court system, you could avoid prison time and have to pay higher fines. It's not easy to not attend court or submit paperwork properly. A criminal defense attorney knows everything that happens from the moment an individual is detained until the time they're sentenced. A criminal defense lawyer can be expected to offer individualized care from the start of the case.
Assistance in Evaluating the Different Settlement Options
A knowledgeable criminal defense lawyer can assist you in evaluating every option available, from the various charges and plea deal options. He can assist you in selecting the most appropriate option for your needs. Other options include the possibility of dismissal or reductions in penalties or charges.
Another critical decision is whether you want to accept a plea deal offered by the prosecutor or if you'd instead go to the trial. Your attorney will first review all the possible consequences and the type of sentence you'll face if you are found guilty at trial. The lawyer will then talk about the outcomes of any plea negotiation. They could also offer an agreement to plead guilty for a lower settlement. Don't try to negotiate a plea bargain by yourself without the assistance of a lawyer for criminal defense.
Frequently Asked Questions:
Is Louisiana a No-Fault State?
Louisiana is not a no-fault state when it comes to auto accidents. Instead, being a "tort" state, victims must demonstrate that the other motorist was at fault for their collision to get financial compensation.
Does Louisiana Have Personal Injury Protection?
While PIP insurance is not compulsory for drivers in Louisiana, if you've sustained catastrophic injuries in a car accident, you could find the minimum coverage level permitted by law inadequate. So having PIP insurance may be beneficial.
What are Special Damages in Louisiana?
Special damages are measurable compensation, such as payment for lost earnings or medical expenses. Generic harms are more difficult to quantify. They include financial compensation for past and prospective future losses in income, emotional distress, and diminished quality of life.
The center of Louisiana's Cajun and Creole Country is Lafayette. This area is often referred to as the Happiest City In America. The city's roots go back to the 18th century when the Acadians of Canada were exiled from the country. They settled in Louisiana. Two centuries later, tourists visit for a rare experience of the authentic Acadian experience. Lafayette is the center of Cajun food, earning the designation of Best Food City in America. Lafayette's culinary scene is rich in tradition. There's also a great selection of foods to pick from. It is simple to be a fan of Lafayette's Cajun and Zydeco music. If you want to learn the two-step or waltz, there is always dancing with your friends. It's easy to leave with a smile, no matter your passion. Criminal Defense Attorney Lafayette Parish LA
David E. Stanley, APLC, Also Serves Livingston Parish, LA
Each year, thousands of visitors explore the splendor of southeast Louisiana. From first-class golfing to an award-winning Antique District, Livingston Parish, LA offers something for everyone. It's the home of one of the most distinctive Bass Pro Outdoor Worlds in the US, and our top selection of hotels is located just 10 minutes from downtown Baton Rouge and only 45 minutes from New Orleans. Livingston provides more than 400 miles of fishing, floating, and roaring waterways. Campers are also able to explore numerous sites in the parish. Enjoy delicious food at our delightful restaurants and in small towns, and connect with many of the most pleasant people you'll meet. There are many things to do and sights to see within the parish. The parish also offers a wealth of Southern Louisiana tradition and flair.
David E. Stanley, APLC
1055 Laurel Street, Suite 2
Baton Rouge, LA 70802
225-926-0200