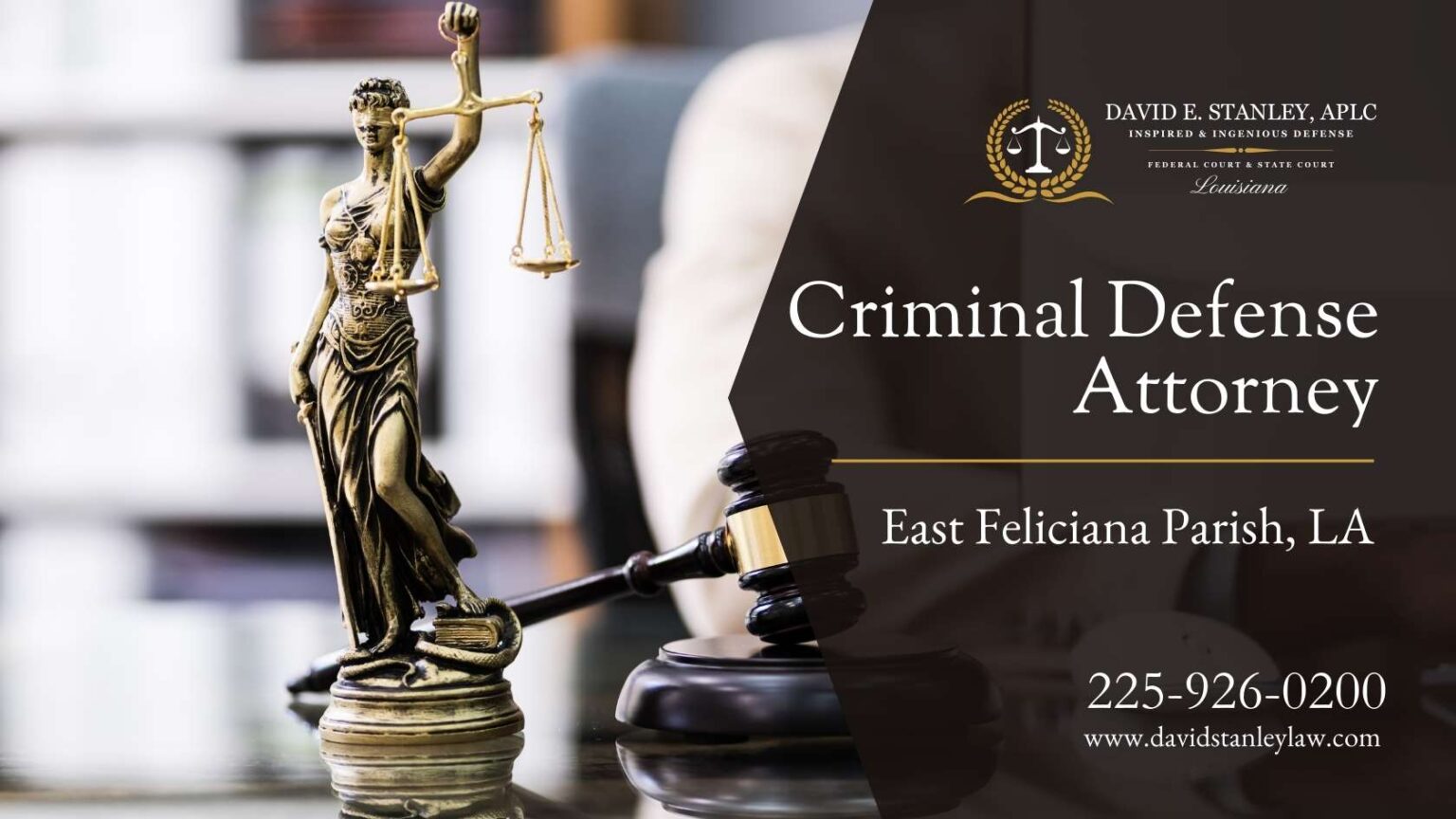 An experienced criminal defense lawyer can guide you through the legal system and advise you about your rights if you are accused of a crime. They will also defend your rights and will represent your interests. Private criminal defense lawyers take the time to meet clients, discuss their cases and commit to them. Public defenders usually have more cases and limit the time available to work on particular cases. When charged with an offense, finding a knowledgeable, experienced criminal defense attorney is critical. Their expertise and experience can significantly improve your case. It could mean the distinction between an acquittal and the harshest sentence. Criminal Defense Attorney East Feliciana LA
A criminal defense lawyer, David Stanley, will fight to safeguard your rights, prevent unjust convictions, and get an optimal outcome. In addition, an attorney can help fight for a fair sentence if you are convicted of some crime. David E. Stanley, APLC, has represented thousands of clients throughout the whole spectrum of criminal offenses and has obtained the dismissal or reduction of sentences in numerous criminal cases.
Criminal Law Services We Offer In East Feliciana Parish, LA
David E. Stanley offers the following legal services:
In criminal defense, a strategic argument is used to challenge the credibility and legitimacy of the evidence. For federal crimes, the prosecution is often in the hands of individuals, states, or even the United States. The prosecution is the person who attempts to prove the criminal charges. The prosecution has to prove beyond reasonable doubt that you committed the offense.
There are many avenues for criminals seeking relief from the justice system. This includes appealing against the conviction or the sentence. A person convicted can appeal to a higher court to fix any legal mistakes. This differs from having a trial re-run if the defendant is unhappy with the result. An appeal will determine whether the verdict is correct or not. The person who appeals against the verdict must prove to a higher judge that the trial was unfair. The court is not able to consider new evidence. They are instead taken into consideration. Although one is entitled to appeal their decision, certain conditions and deadlines have to be met for the appeal could be the basis for a waiver. Legal professionals can assist you in understanding your options and make sure that you've met all deadlines. Consult a licensed criminal defense attorney today to discuss the options available.
Personal injury law protects every injury an entity inflicts upon another person or entity. This is true as long as the harm wasn't caused by negligent, intentional, or reckless behavior or an act subject to strict liability. The fields of law relating to personal injuries are extensive, and many choices exist. It can take time to pick the best attorney to represent your situation. Personal injury lawyers might not be the best option to represent any person in a murder or divorce matter. Consider whether you can succeed in a personal injury lawsuit. Every case is unique. Personal injury lawsuits may not always result in damages. The process of negotiating a settlement can take many years. You may lose your wages and have to pay court costs during this period. If you or someone loved ones have suffered injuries or death due to another person's malpractice, negligence, recklessness, or reckless actions. The law on personal injury could permit you to seek damages. Consult an attorney regarding personal injuries to review your case and determine if you have a valid one.
Why You Should Hire David E. Stanley, APLC
Someone accused of committing a crime is not interested in being treated as a stranger in court. Many individuals lose their cases because they must understand their rights and adhere to the correct procedure. There is a long list of rules to adhere to if you must appear in court. When the stakes are more than a fine, consulting an attorney for criminal cases is essential.
To lower costs and expenses, it is common for people not to hire an attorney for the defense. An attorney is an intelligent decision to defend yourself against criminal charges. The expense of hiring a lawyer to defend your case is minimal compared to the risk of losing. Therefore, a criminal defense lawyer must ensure the best quality defense. To recognize the significant elements and arguments that could be used to deflect charges relating to the alleged crime, A criminal defense lawyer is aware of the different aspects of each case. Here's why it is essential to hire a good lawyer.
Understanding the Judicial System
A criminal defense lawyer is an excellent source for understanding your country's justice system. However, it can be confusing and confusing even for people who have been working within the legal system for a few years. As a professional in the legal system, a seasoned defense lawyer is an ideal choice. He will help you through the court procedure based on the specifics of your case.
Follow the Correct Court Procedure
A skilled criminal defense attorney will not challenge you before entering the courtroom. It is more difficult to get ready for court. An experienced criminal lawyer will assist you with the preparation of the papers.
Many legal obstacles can hinder access to the courts. The prosecutor could exploit this to benefit. The courts that handle criminal matters have strict deadlines as well as bottlenecks. They also adhere to legal rules that can lead to defendants forgetting their responsibilities. Therefore, you should have solid support from a knowledgeable and experienced criminal defense attorney. If the prosecutor knows they will be up against an experienced and skilled lawyer, you will likely win the plea bargain.
Relationships with the Prosecutors
After many years of experience in the legal profession, a defense lawyer can establish relationships with a prosecutor. Although it may seem strange, lawyers have good relationships with their colleagues. They both know they will have a greater chance of getting a good experience when interacting with one another. A skilled defense attorney will have a great rapport with the prosecutor. This can help in settlement of your case. The connection can allow them to negotiate a low-cost bond or a better plea bargain. Your attorney for defense is your primary point of contact. They can handle all the discussions and negotiations with law enforcement and prosecution. Your lawyer can calmly discuss complex issues with the prosecutor. If they're friends and have expertise in legal issues, your lawyer may take care of your case professionally. If the lawyer you choose has worked to a high standard in your local community, he may be acquainted with the local judge. He may also know the strategies that work best for that particular judge.
A More Thorough Examination of the Evidence
The prosecution team includes experts that review evidence from your criminal trial. Legal counsel is a great help. A skilled and knowledgeable criminal lawyer can uncover illegally collected evidence to affect your case's outcome. Your lawyer for the defense can handle witnesses who exaggerate to justify the accusations. They'll quickly identify any flaws in the witness's testimony. A lawyer for criminal defense is in a position to analyze the evidence and witnesses presented by the prosecution.
Moreover, when you hire an experienced defense lawyer who is part of a law firm, you'll receive assistance from the defense team. The lawyer you choose to defend you will assist you by using his connections with private investigators, medical professionals, and expert witnesses. These relationships can be used to enhance your defense.
There are Ways to Save Cash
While it may seem expensive to engage an attorney for criminal defense, you will benefit from having someone who can assist you. With an expert lawyer, your case can be dealt with efficiently and efficiently. In addition, an attorney will reduce the time taken to process your legal case. This will help you return to normal speedily and limit the loss of income you could lose due to delays.
An experienced and knowledgeable lawyer is well-versed in the law and will help you navigate new laws. He will help you defend your case through the development of legal strategies. He can use lawful strategies to benefit you. You can rest assured that the team representing you understands the law and is aware of any changes. He will safeguard your rights from the officers and law enforcement. He will review your case and look for improperly obtained evidence. With the help of solid evidence, it is possible to prove false allegations. A criminal defense lawyer may assist you in staying clear of criminal charges. He can quickly spot flaws that could be present in your case and know the best ways to conceal the weaknesses.
Make Sure You are Secure for Your Future
Your future and life are in jeopardy if you're under investigation for a crime. If you are currently being found guilty, your life may be drastically altered. It is possible to pay fees and penalties and even spend many years in jail. There could be severe consequences if it is not possible to defend yourself. This could result in ineligibility or limitations on your job search.
A professional defense attorney can help keep your criminal record clear and reduce any adverse effects which could affect your future. The circumstances of your case can affect whether your lawyer can lower or eliminate the penalties or dismiss the charge entirely. An attorney can assist you in removing a conviction. The lawyer will help you find the best ways to minimize the adverse effects of a criminal conviction.
Get the Attention You Deserve
You may feel that everybody is against your cause in a criminal matter. You may feel awkward discussing your case with those close to you. Speaking with a trusted lawyer will enable you to freely voice your concerns, fears, and all aspects of your case. The lawyer who represents you will be there to help you. He will help and guide you through the procedure. You could avoid prison by getting into the system of court. However, you will be charged more for penalties. The process may seem overwhelming, from missing hearings to filing your paperwork correctly. Criminal defense lawyers know how things work from when an individual is held until sentencing. A criminal defense lawyer will be expected to provide personalized attention right from the beginning of your case.
Assistance in Evaluating the Various Settlement Options
A credible criminal defense lawyer can help you evaluate every possible option, starting with various charges and plea deal options. The lawyer will help you choose the best option for you. Many other options are available, including dismissal or reductions in penalties or charges.
Another critical decision you have decided is whether to take a deal offered by the prosecution or whether you'd prefer to go to the trial. First, your attorney will discuss all potential consequences and what type of punishment you'll likely face if you're convicted at trial. Attorneys will also discuss the outcome of any plea bargaining. Finally, they may negotiate a plea deal for the settlement to be lower. Only try to negotiate a plea deal by yourself with the help of an attorney.
Frequently Asked Questions:
Should You Tell Your Defense Attorney Everything?
When attorneys represent clients, they should always feel at ease, giving them the complete truth about the situation. Therefore, all communications to obtain legal services, aid with a legal matter, or a legal opinion are protected.
Should I Tell my Lawyer I'm Guilty?
It is your responsibility to be open and honest with your defense lawyer so that they can put up the most robust case. The judge or jury will decide if someone is guilty.
Can Lawyers Refuse to Defend Someone?
An attorney has every right to decline to represent a client. While attorneys can decline to represent a client, they are unlikely to do so based solely on the client's guilt or innocence. As they advocate for you, you should get along well with your attorney.
East Feliciana Parish, LA
East Feliciana Parish in Louisiana is well-known for its historic landmarks and scenic beauty. In the times of cotton, it was a legal commercial, educational, and academic hub. As a result, many charming, historic towns and breathtaking country roads exist. The remains of the former Centenary College are located about 30 miles northeast of Baton Rouge in East Feliciana Parish's hilly terrain. The liberal arts college was established in 1825. It is now the main attraction at Centenary State Historic Site. It tells the story of a once-successful men's college that rose to prominence during the Civil War.
The peaceful setting is just 30 minutes away from Baton Rouge Airport. The amenities include bird watching and fishing massages, gifts, massages, and stargazing for any occasion. The Jackson Spillman Loop starts and ends in Jackson. It takes you through some of the most beautiful roads. The roadway is mostly straight, and the terrain is a bit rocky. There are ten crossings of creeks. Some creeks are suitable for swimming or picnicking. Jones Creek Road is steep and hilly. No shops are en route, so take plenty of water and snacks.
Jackson has a wide range of dining options and other nearby stops. Milbank Historic House (circa 1836) is a historic Greek Revival home that used to be Jackson's first bank. Or visit the Republic of West Florida Museum to see a restored century Old Cotton Gin and a 1920s pipe organ, vintage cars, and carriages.
David E. Stanley, APLC, Also Serves Greenwell Springs, LA
Greenwell Springs, LA can be described as an area within central Louisiana. It is located within the Baton Rouge metropolitan region. It was previously a distinct neighborhood that was not incorporated into East Baton Rouge Parish. In memory of the Greenwell family, the resort was constructed in 1850. The resort included a pavilion, cottages, and a hotel. Robert W. Greenwell bought the land that is now known as Greenwell Springs. He began to develop the area into an agricultural area and constructed ten healing springs. Although the springs were located close to one another, each was believed to possess distinctive mineral properties. It was thought that this indicated they came from different levels below the ground.
David E. Stanley, APLC
1055 Laurel Street, Suite 2
Baton Rouge, LA 70802
225-926-0200