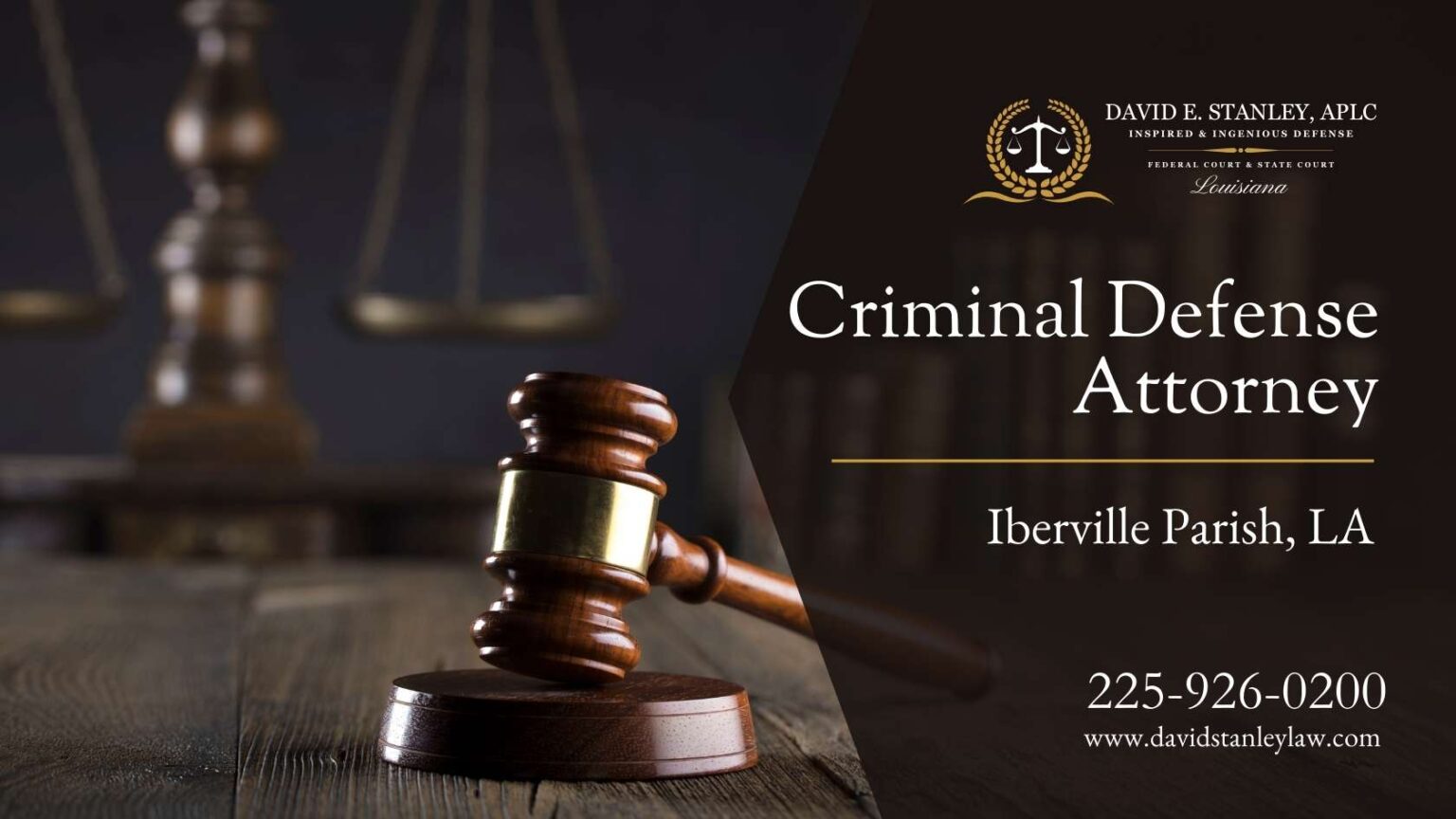 Working with an experienced and competent criminal defense lawyer is essential if you face criminal charges. Their experience and knowledge will significantly enhance your case. It could mean the difference between an acquittal and the most severe sentence. An experienced criminal defense lawyer should be able to inform you of your rights and assist you in navigating through the legal system. They will also protect your rights and will represent your interests. Private criminal defense lawyers take their time to meet clients, talk about their cases, and then commit to them. Public defenders often have more cases handled, which limits their time to work on particular cases. Criminal Defense Attorney Iberville Parish LA
David Stanley is a criminal defense lawyer who will fight for your rights and keep the wrongful conviction. A lawyer can assist you in fighting for a fair sentence if you are convicted of the commission of a crime. David E. Stanley, APLC, has represented thousands across the entire spectrum of criminal cases. He has secured dismissals or reduced sentences in numerous criminal cases.
Law Services We Offer In Iberville, LA
David E. Stanley, APLC offers the following legal services:
A strategic argument in criminal defense challenges the credibility or validity of the evidence presented by the prosecution. The prosecution is usually called the people, state, or the United States for federal offenses. The prosecution is the one who attempts to prove the criminal accusations. Therefore, the prosecution must demonstrate that you have committed the offense beyond a reasonable doubt.
Criminal defense contests the validity or credibility of the evidence the prosecutor presents. The prosecution is typically in the hands of the state, people, or even the United States for federal offenses. The prosecution is accountable for making a case for criminal charges. So, the prosecution has to prove that you committed the crime beyond a reasonable doubt.
Criminals have several choices to get relief from the justice system. You may appeal an indictment and decrease your sentence. Someone convicted guilty of a crime can appeal and ask for an appeal by the higher court to rectify any legal errors. It's not like asking for a new trial if the defendant was unhappy with the outcome. An appeal is a way to determine whether the verdict is whole or the sentence was wrongly passed down. The person appealing against the verdict has to prove to an upper judge that the trial was unfair. The court isn't able to consider fresh evidence. Instead, they are considered. When one has the option to appeal their case, however, specific conditions and deadlines must be met to qualify for the waiver. Legal professionals can assist you in discovering your options and make sure you've met the deadlines. Consult a licensed criminal defense lawyer for more information about your options.
Personal injury law covers any harm an entity inflicts upon another person or entity. This is true if the injury was not caused by reckless or intentional action or any other act covered by strict liability.
This makes it challenging for people to choose the best lawyer to represent their particular situation. Personal injury lawyers might not be ideal for representing any person in a divorce or murder matter. Think about whether you can win a personal injury case. Every accident is not an individual case. Personal injury lawsuits may not always produce damages. The process of negotiating a settlement can take years. In this period, you may lose your wages and have to pay legal fees and court costs. Imagine that someone you care about has been injured or killed due to another party's negligence, carelessness, reckless behavior, or recklessness. Personal injury laws could allow you to recover damages. Consult an attorney regarding personal injuries, review your case, and determine if you have a valid one.
Why You Should Opt for David E. Stanley, APLC
Someone accused of a crime and facing criminal charges shouldn't wish to appear as a stranger in court. Unfortunately, many people fail to win their cases due to needing to know their rights or follow appropriate procedures. There's a lengthy list of guidelines to follow if your presence is required in court. If the stakes are much higher than a fine, seeking legal advice from an attorney in criminal defense is crucial. To reduce costs and expenses, most people don't hire an attorney to defend themselves against criminal charges. But hiring an attorney to defend you against criminal charges is an intelligent choice. The cost of hiring an attorney to represent you is negligible compared to the risk of losing. A defense attorney is crucial to ensure you have the best defense. A criminal defense lawyer is aware of the distinctions between each case to identify the primary factors and arguments that can be used to dismiss any charge related to the accused crime. Here are the main reasons it is essential to hire an attorney.
Understanding the Judicial System
A criminal defense attorney is a valuable resource for details on how the justice system of your country functions. Even for people in the legal system throughout the day, it's complex and confusing. Because he is a court expert, a well-informed defense lawyer is your best choice. He can guide you through the court process based on your situation and needs.
Follow the Correct Court Procedure
When you have an excellent criminal defense attorney, he will not challenge your case before stepping into the courtroom. As a result, it takes more work to prepare for court. An experienced criminal lawyer will assist you in preparing all the required documents. Many legal obstacles can hinder access to the court. The prosecutor can utilize this to his advantage. Most courts handling criminal cases have strict deadlines, bottlenecks, and legal procedures that can make the defendant utterly unaware of his legal obligations. Therefore, you need the support of a competent and experienced criminal defense attorney. If the prosecutor knows they're facing an experienced and knowledgeable lawyer, you'll be more likely to get the plea bargain.
Relationships with Prosecutors
An experienced defense lawyer has built relationships with prosecutors following their work in the legal field for many years. While this may sound odd, lawyers have good relationships with colleagues. Each of them knows they have a higher chance of having a good experience when they get to know one another.
A skilled attorney for the defense will be able to build solid relationships with the prosecutor. This will help in the settlement of your case. They could bargain for a less expensive bond or offer a better price. Your lawyer will be your primary contact. They can negotiate with the prosecutor as well as law enforcement. Your lawyer can calmly discuss heated matters with the prosecutor. If they're friends and have experience in legal issues, You can be assured that the lawyer you choose will take care of the case professionally. Your lawyer could have worked in the same field as the judge in your area. He might also know what tactics work best for that particular judge.
A Enhanced Examination of the Evidence
The prosecution team has experts who examine evidence from the criminal case that you're in. A legal professional would be an invaluable resource. A skilled and knowledgeable criminal lawyer can uncover illegally collected evidence to affect your case's outcome. Your lawyer for the defense can deal with witnesses who overstate their claims to prove the case. They'll be able to spot weaknesses in the evidence. You'll need to employ an attorney for a criminal defense to examine the evidence and witnesses the prosecution presents.

In addition, when hiring an experienced defense lawyer who is part of a law firm, you'll receive assistance from an entire defense team. The lawyer you select to defend you could help you by using his connections with private investigators, medical experts, and expert witnesses. These relationships can be leveraged to your advantage and strengthen your defense.
If hiring an attorney for criminal defense can be costly. However, you'll save money once you have an expert who can guide you. Your case will be handled efficiently and smoothly with an experienced attorney. An attorney will reduce the time it takes to get your legal case. This allows you to return quickly to normal and lessen the possibility of losing money caused by delays.
An experienced and knowledgeable lawyer is familiar with the law and can help you get through any new laws. His legal strategies can be used to defend your case. He will apply the law to your advantage. Your lawyer's defense team will be knowledgeable and well-informed of any law changes. He will protect your rights against the authorities and police. He will carefully review your case to identify any improperly procured evidence. He can prove false allegations through evidence of solidity. A skilled criminal defense attorney will help you avoid criminal charges. He can quickly identify flaws in your case and knows the best ways to conceal the flaws.
Be Sure to Secure for the Future
If you're under investigation in a criminal case, your family's and your life's future are in danger. If you're currently being found guilty, your life may be drastically altered. There is the possibility of paying fines and jail time for many years. In addition, it is possible to face severe consequences if you fail to defend yourself. This includes the inability to find work and restrictions on where your career may lead you. Professional defense attorneys can assist you in keeping your criminal record clean and reduce any negative consequences that could affect your future. Your circumstances and case can affect whether your lawyer can reduce or lower the penalties or dismiss the case entirely. A lawyer can assist you in getting rid of the conviction. The lawyer will help you find the most effective ways to lessen the negative impacts of a conviction for a crime on your life.
Be the Featured Person You Deserve
When facing a criminal case, it cannot be easy to feel that everyone is against you. You might be uncomfortable discussing your case with those close to you. If you're working with a reliable lawyer, you'll be able to discuss your anxieties and insecurities about your situation. Your lawyer will be there to help you. They will be able to assist and guide you through the process. If you're a victim of the courts, you will avoid prison time and have to pay higher fines. It is challenging to be late for hearings or to complete paperwork promptly. A criminal defense lawyer knows what takes place from when an individual is in custody until the time they are sentenced. Criminal defense lawyers can be expected to provide individualized attention right from the beginning of your case.
Assistance with Evaluating the Various Settlement Options
A knowledgeable criminal defense lawyer will assist you in evaluating every option available, from various charges and plea deal options. He can also help you determine the right solution for you. There are also other options, such as dismissal or reductions in penalty charges. Another crucial decision to make is whether to take the deal offered by the prosecution or if you'd rather go to the trial. The attorney will explain all the possible consequences and the kind of punishment you'll face if you're found guilty at trial. Attorneys will also discuss the outcomes of any plea bargaining. They might also suggest a plea deal with a reduced settlement. Only attempt to negotiate a plea deal by yourself with the help of a lawyer. Criminal Defense Attorney Iberville Parish LA
Frequently Asked Questions:
What are the 2 Categories of Defenses to Crimes?
Except for an alibi, most affirmative defenses rely on an explanation or an excuse. Typically, justification and excuse defenses acknowledge that the defendant did the unlawful act with the necessary purpose, but they contend that the behavior was not unlawful.
How Long Does it Take in Louisiana to Resolve a Personal Injury Case?
Resolving a personal injury case can take a few months or many years. The minimal period is one to two months after submitting your claim with your insurance company. Nevertheless, the time it takes to process your claim may vary depending on your injuries' severity.
Can You Sue for Pain and Suffering in Louisiana?
Louisiana state law permits pain and suffering lawsuits and other "non-economic damages in personal injury claims." Moreover, Louisiana does not have award limits for auto-related personal injury lawsuits.
Iberville has one of the most stunning places to visit in south Louisiana. Take a trip along the Great River Road amidst the sugar cane fields and take in the splendor of Nottoway, the largest historic residence in the South. Then, you'll continue along River Road to find the Plaquemine Lock Historical Site, Iberville Museum, and the Madonna Chapel. The beauty of North Iberville, from its bayou views through its great twisted oaks, is unbeatable.
Our North Iberville Visitors Center staff will be pleased to help you make your plans for your next journey and guide you to one of our special cultural experiences. The East Iberville communities are St. Gabriel or Carville across the river. In this place, you'll have the opportunity to explore the fascinating Hansen's disease Museum's story and hear about the courageous individuals who stood up to the stigma this disease used to bring about in society. Criminal Defense Attorney Iberville Parish LA
David E. Stanley, APLC, Also Serves
East Baton Rouge Parish, LA
The French expression baton rouge meaning red stick is the name given to the parish. The stick was utilized to mark the boundaries of tribes by Native Americans. A perfect mix of city facilities and the local culture can be located in the central Baton Rouge residential area. The Louisiana Arts and Science Museum, along with the Louisiana State Capitol, are some of the distinctive features of East Baton Rouge Parish. There's also the Old State Capitol and the Louisiana State Capitol. In addition, there's the Baton Rouge Zoo and Rural Life Museum. There are the Pentagon Barracks, the LSU Museum of Art, and the Southern University Museum of Art.
David E. Stanley, APLC
1055 Laurel Street, Suite 2
Baton Rouge, LA 70802
225-926-0200