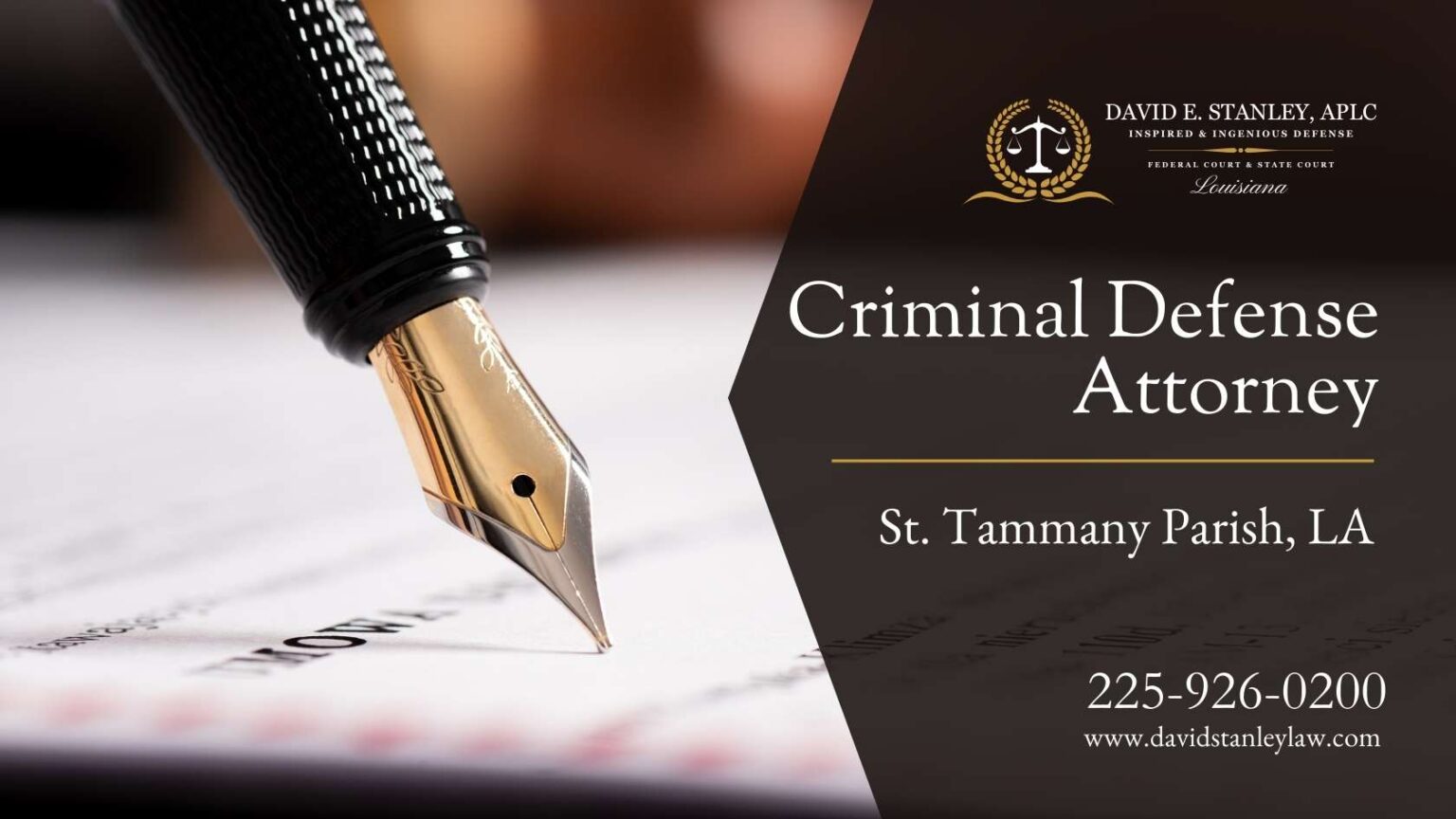 Engaging with a competent, expert criminal defense lawyer is critical when charged with a crime. Their experience and knowledge can significantly improve your case. It could be the difference between an acquittal or an extremely harsh sentence. An attorney can assist you in getting fair sentences if you are convicted of the commission of a crime. A criminal defense lawyer with much experience can help you navigate the legal system and inform you about your rights. They will safeguard your rights and fight for your interests. Private criminal defense lawyers will spend time with their clients to know about their cases, and then they commit to them. Public defenders usually face many more cases than they can handle, restricting their time concentrating on specific cases. Criminal Defense Attorney St. Tammany Parish LA
A criminal defense lawyer, David Stanley, will fight to safeguard your rights, prevent unjust convictions, and guarantee an optimal outcome. David E. Stanley, APLC, has represented thousands of people across criminal charges. As a result, he has obtained the dismissal or reduction of sentences for many criminal cases.
Law Services We Offer In St. Tammany, LA
David E. Stanley, APLC offers the following legal services:
A defense strategy in criminal defense challenges the validity or credibility of the evidence provided by the prosecution. In federal cases, The prosecution is frequently called upon by the people, the state, or the United States. The prosecutor is the person who tries to prove criminal allegations. The prosecution must establish above a reasonable doubt that you have committed this offense. Criminal Defense Attorney St. Tammany Parish LA
There are many avenues for criminals to get relief from the justice system. The appeal process allows you to contest an indictment and decrease your sentence. An individual convicted of a crime can appeal and request a higher court appeal to correct legal errors. This isn't the same as seeking a new trial since the defendant wasn't satisfied with the verdict. An appeal will determine whether the verdict is correct or not. Appealing against the verdict must show the trial was unfair. The court can't consider any new evidence. Instead, they are considered. When one has the option to appeal their case, however, specific conditions and deadlines have to be met for the appeal could be an exemption. Legal professionals can help you understand your options and meet all deadlines. Talk to a reputable criminal defense lawyer today about available options.
The law on personal injury covers every injury that a or an entity causes to another individual or entity. This would be the case if the injury were not caused by reckless, intentional, or reckless actions or other acts subject to strict liability. Many legal areas deal with personal injuries. It can take time to choose the right attorney for your case. A personal injury lawyer won't be the ideal choice to represent people in cases of murder or divorce. Think about whether you can be successful in a personal injury claim. Every accident is not an individual injury case. Personal injury lawsuits may not always bring about damages. The process of negotiating a settlement could take a long time. While you wait, you could be unable to earn a living and have to pay court costs if you or someone you love has suffered injuries or even death due to another's negligence, irresponsibility, or inattention. Personal injury laws can allow the victim to recover damages. Speak with an attorney about personal injuries, review your case, and determine if you are eligible for a claim.
Why You Should Pick David E. Stanley, APLC
Why You Should Pick a Criminal Defense Attorney St. Tammany Parish LA,  David E. Stanley, APLC 
Understanding of the Judicial System
One of the primary reasons to hire an attorney in criminal defense is that they have sufficient knowledge of how your country's justice system works. It is confusing and complicated even for people within the legal system for a few years. Because he is an expert in the court system, a knowledgeable defense lawyer is your ideal option. He can help you navigate the court process based on the particular situation.
Follow the Correct Court Procedure
If you're an experienced criminal defense lawyer, he will not oppose your case before stepping into the courtroom. It's more challenging to get ready for court. An experienced criminal lawyer will help you prepare the documents. Many legal hurdles can prevent access to the courts. The prosecutor could exploit this to his advantage. A lot of courts handling criminal matters have strict deadlines as well as bottlenecks. They also adhere to legal guidelines that can cause defendants to forget their duties. So, it is essential to have the support of a competent and experienced criminal defense lawyer. You're more likely to accept a plea bargain when the prosecutor knows you're facing an experienced and skilled lawyer.
Relationships with Prosecutors
An experienced defense lawyer has established relationships with the prosecutor after working in the legal industry for many years. While it may seem odd, lawyers maintain good relationships with their colleagues. The two parties know they'll be more likely to enjoy a positive experience when they get to know one another. A knowledgeable defense attorney has a strong relationship with the prosecutor. This can help you settle your case. This relationship can help them negotiate a low-cost bond or a more favorable plea bargain. Your attorney for defense is the primary contact point. They will negotiate with the prosecutor and law enforcement. Your lawyer will be able to discuss controversial questions with the prosecutor calmly. Your lawyer may handle your case professionally if they have a positive relationship and are knowledgeable about legal matters. The lawyer you choose may have worked in your area in the same space as the judge. Therefore, advising him on which strategies work best for every judge is possible.
A More Comprehensive Examination of the Evidence
The prosecution team has experts who examine evidence in the criminal case that you're in. Legal professionals are an ideal resource. A competent and skilled criminal lawyer can uncover evidence obtained illegally and influence the outcome of your case. The lawyer representing you can take on witnesses who embellish to prove the case. They'll be able to identify weaknesses in the evidence quickly. You'll need to engage an attorney for the criminal defense to analyze the evidence and the witnesses supplied by the prosecution.
Moreover, when you hire an experienced defense lawyer who is part of a law firm, you'll be supported by an entire defense team. The attorney you hire to defend you will assist you by leveraging his numerous connections to private investigators, medical professionals, and expert witnesses. These relationships can be used to boost your defense.
There Are Several Ways to Save Cash
If hiring an attorney for criminal defense can be costly. However, you'll save money once you work with an expert who will guide you. Your case will be dealt with efficiently and smoothly by an experienced lawyer. An attorney can reduce the time required to move your legal case. This will allow you to quickly return to everyday life and decrease the possibility of losing money caused by delays.
A seasoned and skilled lawyer has been in law for many years, which means the lawyer is well-versed in handling the changes in your case. His legal strategies can be employed to defend your case. He will apply the law to your benefit. You can be confident that the defense team of your lawyer has an in-depth understanding of the law and is informed of the latest changes in the law. They will protect your rights from police and enforcement. He will scrutinize your case to identify any incorrectly obtained evidence. By using solid evidence, he can prove false allegations. A criminal defense attorney will assist you in staying clear of charges in criminal court. He can spot the weaknesses in your case and advise you on ways to cover these.
Your future and even your life could be at risk if you are under investigation in a criminal investigation. Your life could be drastically changed if you're nearing being found guilty. It is possible to pay penalties and fees and spend many years in jail. If you fail to defend yourself, you could suffer grave consequences. This could result in a lack of or stifling your job search. A professional defense attorney can assist you in keeping your criminal record clean and minimize any negative consequences that could impact your future. Your situation and circumstances will determine whether your lawyer can reduce or lower the penalties or dismiss the charge entirely. A lawyer can help get rid of any conviction. The attorney can assist you in finding the best ways to limit the negative consequences of a criminal record on your life.
Receive the Attention You Deserve
There is a possibility that everyone opposes your case in a criminal trial. You may not feel comfortable discussing your case with those closest to you. If you're with a trusted lawyer, you can freely speak about your anxieties, fears, and all other issues about your situation. Your lawyer will be there to help you. The lawyer will guide and assist you throughout the entire process. If you get into the legal system, you can avoid jail and pay more penalties. The process could be daunting, from missing hearings to filing paperwork properly. Criminal defense lawyers know what takes place from when an individual is in custody until the point at which they're sentenced.
Assistance in Evaluating the Various Options for Settlement
A skilled criminal defense attorney will assist you in evaluating every possible option, from various charges to plea bargain options. He can help you choose the best option for you. Other options are the possibility of dismissal or reductions in penalties or charges. You will also need to decide if you'll take the deal the prosecution offers or prefer to proceed to trial. Your attorney will first explain all the possible consequences and the type of sentence you could face if you're convicted guilty in court. Your attorney will then go over the outcome of any plea negotiations. They might also suggest the possibility of a plea bargain with a reduced settlement. Of course, it would help if you did not reach a plea bargain on your own without the assistance of a lawyer.
Frequently Asked Questions:
How long after an accident can you sue in Louisiana?
In Louisiana, a case involving a car accident must be brought to court within 12 months of the incident. The person that sustains injuries in an automobile accident may be entitled to financial compensation for their losses. Before the statute of limitations ends, the claim must be submitted to the appropriate court.
In Louisiana, What Constitutes Serious Bodily Harm?
Severe bodily harm refers to a bodily injury that results in a coma, excruciating pain, obvious deformity, extended loss or impairment of a bodily part, organ, or mental capability, or a significant danger of death.
How is the Cost of Suffering Determined in Louisiana?
The "daily rate technique" is a way of determining pain and suffering damages in Louisiana litigation. This approach depends on you and your attorney figuring out what it costs you to live each day. Then, the value is multiplied by the days you have endured your damages after establishing this daily sum.
St. Tammany Parish is an area of the U.S. state of Louisiana located in the New Orleans metropolitan area. It is the fastest-growing parish in the state, beating Livingston and Ascension. Various tours are available in the Slidell/Pearl River region located east of St. Tammany Parish. The entertaining captains of the flat-bottomed boat of the Honey Island Swamp double as naturalists. They provide a glimpse into the ecosystem, wildlife, and flora. The Honey Island Swamp tour is a great way to see alligators in the wild, in addition to boar, raccoons, and many bird species. Insta-gator Ranch and Hatchery in Covington is a working alligator ranch where you can experience the touch, feel, and even hatch alligators and learn more about the industry of alligators, the iconic Louisiana reptile. Folsom's Global Wildlife Center is home to thousands of free-roaming wildlife from around the globe. Families love taking safari tours to discover the animals and their natural habitats. A camel's hump wiggle and getting eye to eye with giraffes are unique experiences. The most famous sightseeing carriage company, Royal Carriages, has opened its Downtown Covington location, offering 30 to 60 minutes of mules-drawn carriage rides in the historical St. John's District.
David E. Stanley, APLC, Also Serves Tangipahoa Parish, LA
Tangipahoa meaning "ear of corn" or "those who gather corn," refers to a subtribe of Acolapissa. These Native Americans first settled the region in Louisiana when French brothers Pierre Bienville and Jean le Moyne arrived. Tangipahoa Parish was a vibrant community before becoming the bustling commercial and agricultural center it is today. It is a physical composite of most habitats typical of the lower areas east of the Mississippi River. The area was sparsely populated before 1801 because it was rich in oak, pine, gun Ash, birch, and magnolia. Events for the arts, outdoor activities, and an abundance of shops are only some of the many things we can provide.
David E. Stanley, APLC
1055 Laurel Street, Suite 2
Baton Rouge, LA 70802
225-926-0200